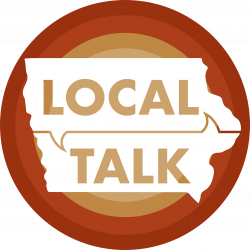 KHOI's Spring fundraiser gets underway at CY Stephen's this Thursday Evening with the Avey Grouws Band and Matt Woods. Tickets can be purchased on KHOI.org website. KHOI's Pat Schlarbaum had an opportunity to visit with a couple of the mucisians and find out more about them and their music; so, we listen in.
Incumbent candidate, Iowa, State Representative Beth Wessle-Kroeschell shares her insights, concerns, priorities, and goals with listeners.
Susan Gwiasda Public Information Officer for the City of Ames along with Sustainability Coordinator, Merry Rankin will give an update on Rummage Rampage, the dates, and how to get involved by donating, volunteering or shopping!
Anna, Magnusson KHOI's Top "Good News Banana" brightens our day.
Offering Poems, Music, and a review of Tuesday programs;
Tom Russell's;
All Things Piano
, Donna Prizgintas and Lana Nachtigal's;
Donna-Lana Kitchen
, Mary Richard's
Community Bookshelf
,
KHOI Jukebox
with Eric B,
Science Bytes
with Sam Wormley and Mike Meetz, Anna Magnusson's
Heart2Heart
along with a sneak peek at
Thursday's,
You Name It
, presented by Mike Murphy.
Rummage Rampage: cityofames.org/rummagerampage.

Originally broadcast 05/24/2022
Listen to the entire episode now!