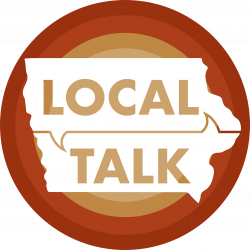 Aza Lyons, the Iowa State University's English department's Student Steward is sponsoring a hike on November 5th starting at 1:00 PM at the Everett Casey Natural Habitat Reserve located northeast of Ogden, in Boone county, Iowa.
Steve Lekwa, former Director of Story County Conservation visits about the nomination process for the Olav Smedal Conservation Award. This award is presented annually in recognition to an area individual/individuals that through their efforts to promote conservation and our natural resouces and outdoor recreation.
Susan Gwiasda Public Information Officer for the City of Ames highlights the upcoming city council meeting, and the meeting to discuss the Linc Project, along Lincolnway and Grand Avenue planning project between 9th and 24th street as well as the town budget meeting. highlighting the upcoming first "no charge yard waste day" this coming Saturday and halloween begger's night on Monday Oct 31st, 5:30-7:30 PM. Details of these and other events can be found on the city of Ames website.
City of Ames Parks and Recreation Director, Keith Abraham provides updates including the Parks and Recreation Department's accessibility audit, some upcoming public meetings, and how to share your thoughts on making facilities more accessible to all users. We also mention the Resource Enhancement and Protection (REAP) grant awarded to Ames for the new park property located in west Ames.
Democrat candidate for Iowa governor, Deidre DeJear, takes time to educate our listeners about her reasons for seeking this office, reviews what she stands for and share those areas she feels are important for all Iowans.
City of Ames: cityofames.org
Susan Gwiasda, Public Information Officer: susan.gwiasda@cityofames.org
Keith Abraham, Director of Parks and Recreation: keithabraham@cityofames.org

Originally broadcast 10/25/2022