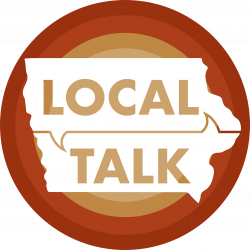 Local Talk for Friday, October 28, 2022 featured the Dennis Hart news summary from the Ames Tribune.
Iowa Turkey vulture status and life history was presented.
Susan Gwiasda, Public Information Officer for the City of Ames invited Fleet and Facilities Manager Corey Mellies to Local Talk. Corey provided an update on the Downtown Plaza, including the closure of Clark Avenue, the relocation of the utility payment drop box, and the new (temporary) main entrance into City Hall. Susan also announced Yard Free drop off for autumn cleanup on Saturday Oct. 29 from 8AM to noon.
Author/photographer Ty Smedes will present on Thursday, November 3rd from 10:30 to 11:30 a.m. at the Story County Conservation Center, McFarland Park for a slide presentation which will reveal many incredibly interesting discoveries about the Bald Eagle and how they go about their every-day lives here in Iowa! This presentation will reveal many highlights of Ty's book "The Return of Iowa's Bald Eagles", which he will be signing and offering for sale. Doors will open at 10:00 a.m. for coffee/tea and chatting.
Music was provided by Raye Zaragoza. She performed "Into the Wild" and "American Dream.".

Originally broadcast 10/28/2022