Community Calendar
Weekdays at 11:55am
Host Sue Ellen Tuttle
THIS WEEK'S WEB SITES
Winter Wonderscape Holiday Lights Show
Winter Hike with Outdoor Alliance of Story County
Ames Public Library Curbside Pickup
---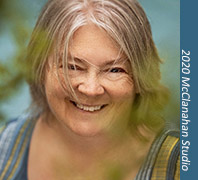 Sue Ellen Tuttle
Community Calendar
65-year-old SWF with writing experience and time on her hands, I came to Community Calendar a few years ago at the invitation of fellow poet and KHOI radio host Brett Brinkmeyer. It was fun being introduced to recording, editing and uploading content. And 2½ hours a week producing 4 minutes of airtime (repeated 5 days a week) is so manageable. I love being a member of a group of versatile volunteers who, together, offer connection and information and belonging to the community.
The first time someone said they heard me on the radio I was a bit surprised; I wasn't thinking about the other side of the microphone. And when they complimented how well I presented, I secretly smiled. Then I explained that recorded program hosts have the luxury of being able to record content, make corrections along the way, repeat a pronunciation, and edit out mistakes with the final result making you sound marvelously professional. Anyone can do it!
In the coming months I'm also looking forward to working with a couple of high school students, giving them an opportunity to explore radio production first-hand. Although seriously, they may know more about tech than I do….