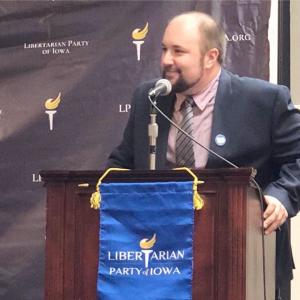 We're continuing our series "Candidates With Cal" with one of the two Libertarian Party's the gubernatorial primary candidates, Marco Batallia speaking with KHOI reporter Cal Haliburton. Then we updated the report we did in 2014 when small towns were hit with finding the money to buy expensive new digital equipment in order to continue to present first-run movies. We talked with five people involved in keeping these community anchors alive as entertainment changed. Four years after that crisis, we checked back with some of the same people to learn how they were doing. Archival footage was combined with more recent updates. We started with Larry Sloan, owner of The Talent Factory (formerly The Camelot) in Nevada. He chose to give up on showing first-run movies and use the classic old theatre as a venue for live performers. His list for just May and June was pretty impressive. Teri Rojas of the Webster Theater in Webster City, and Chris Henning of the Sierra Theater in Jefferson described different strategies for forming non-profits that drew on the strengths of their towns. Wayne Lumley of the Boone Theater and Todd Thorsen of the Story City Grand Opera House represented two models for developing community support for their businesses. Movie music enlivened the story.

Originally broadcast 05/16/2018
Listen to the entire episode now!