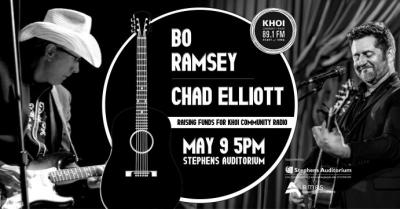 Purchase CONCERT HALL TICKETS and LIVE STREAM LINKS online
KHOI presents "Iowa's Renaisance Man",Chad Elliott and Grammy Award Winning Bo Ramsey on Sunday, May 9 at 5pm at Stephens Auditorium Join us for the love of music and to support community radio! Tickets are $25 for reserved seats and $50 for VIP reserved seats (first 11 rows). Livestreaming for home viewing will also be available for $15/single and $25/group.
KHOI thanks Stephens Auditorium for co-sponsoring this event.
This concert is made possible by a grant from The Ames Commission on the Arts.