Originally broadcast 05/13/2020
Listen to the entire episode now!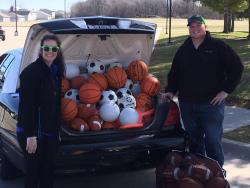 Carolyn Raffensperger and Pat Schlarbaum kicked off our show with a nature based discussion of education. We continued with our virtual road trip to Perry where we spoke with City Administrator Sven Peterson about the response of Perry to the outbreak of COVID-19 at the Tyson meat packing plant. Peterson reported the many things that organizations throughout the city are doing to support families of workers, as well as his visit to the plant to witness the safety precautions that are now in place. Turning to Tyson workers who don't live in Perry, we learned about the many immigrant refugees who commute from Des Moines to work in the Tyson plant. Our contact in Des Moines was an organization called EMBARC, founded in 2011 to provide support for refugees through advocacy, education and community development. Among the refugees served are those from Eritria, Myamar, and the Republic of the Congo. EMABARC maintains help lines and weekly informational broadcasts in 10 languages (see EMBARC Crisis Response). Ending on an entertaining way to cope with sheltering in place, Cheryl Clark, told us about "Al Takes a Bride," the virtual readers theatre production being live streamed by Ankeny Community Theatre on Sunday, May 17 (reservations due at midnight May 16).