Originally broadcast 04/27/2020
Listen to the entire episode now!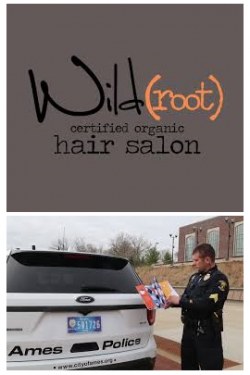 On Fridays at noon, Ames Police CommunityResource Officer Kruger now reads children's books on KHOI. Officer Kruger introduces himself and explains how the Ames Police Force is actively finding ways to put an approachable and human face on the police force, especially during the Covid-19 crisis. He tells us that his own children pick the books he should read on the air but feel he should "stop reading storybooks and get back to work!"
Pat Schlarbaum, KHOI naturalist and Local Talk host, reports on a pair of Ospreys who are nesting next to Wells Fargo Bank in DesMoines. There is a bird-cam for watching their progress.
Morgan Feltner, owner of the organic hair salon, Wild-Root, located in Nevada, gives tips on how to cut hair yourself for a spruce-up in the absence of professional hair appointments. Morgan also explains why she specializes in organic hair products and explains how she and other local businesses are offering gift certificates to buy now for future use, to help tide businesses over while they are closed.
Anna Banana brought Heart to Heart Messages. Send Anna your message to read on the air. Text it to 515-809-0077 or email it to khoiradio@gmail with Heart to heart in the subject line.