Originally broadcast 08/21/2019
Listen to the entire episode now!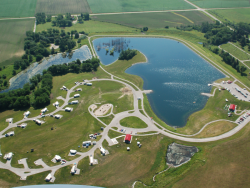 Steve Skaggs, told us about the Nevada's successful application for Main Street Iowa designation and for the advantages this will provide for the town. After five years serving on the Lincoln Highway Days Committee Steve was also well prepared to fill us in on the details of this year's celebration to be held August 29-30 at the Story County Fairgrounds. Tami Kuhn recorded a lively view of last year's rodeo. Focusing on a different kind of family entertainment, Lisa Hein, senior director for conservation programs for the Iowa Natural Heritage Foundation, described the collaboration of the INHF, Story County Conservation, and the town of Radcliff to create a well equipped campground and a clear and well-stocked fishing lake. Closing on a serious notice, Sam Wormley (KHOI's Science Bytes host) came in to give us some background on discussions of climate change emerging as an issue in the Democratic Primary campaign.