Originally broadcast 02/18/2019
Listen to the entire episode now!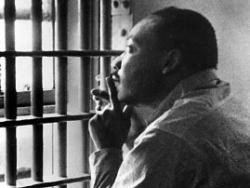 KHOI reporter, Susan Franzen, brought us a segment on an event this past Saturday at the Ames Library, which featured a film and a discussion of Dr. Martin Luther King's Letter from a Birmingham Jail. Ames HS art teacher, Lindsay Wede, and students Gretchen Webber, Caylee Fuqua, and Leah Wolter spoke with KHOI reporter, Greta Anderson. They told about their involvement in the Memory Project, through which young artists around the world create portraits as special gifts for children facing challenges. This year the project centered on Syrian refugees, and the artworks are hanging in the Ames Public Library foyer. In the last part of the show, host, Gale Seiler, chatted with Allee Wengart, from the Ames Chamber of Commerce, along with Danielle Minde and Christian Hempen. The topic was the re-envisioning of the organization formerly known as Young Professionals of Ames, now called FUEL.