Originally broadcast 12/12/2018
Listen to the entire episode now!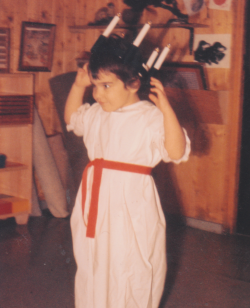 Our show started with Erica Place, outreach coordinator for Story County Conservation, describing the Luminry Walk around the lake at McFarland Park with a plea for volunteers to make the fire for walkers to enjoy and to turn on the lantern like luminaries. Switching to the holiday festival this week, we heard the song and stories of the popular Swedish festival of Santa Lucia. Tonight's Pantorium session Rocky Raccoon, the Beatles tribute band playing at the Pantorium tonight, Greta Anderson interviewed one of the band members, Tom Murphy. Finally Maggie Westvold and Paul Wierson reminisced over the old-fashioned Christmases of their childhood and the people who made them important.