Originally broadcast 11/28/2018
Listen to the entire episode now!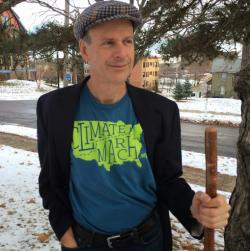 Ed Fallon was with us today to introduce listeners to his weekly show on KHOI ("Fallon Forum" - Wednesdays from 4-5 pm.) and to talk about the book he's just finished "Marcher, Walker, Pilgrim his memoir from the 2014 Great March for Climate Action. He also discussed his alliance with Indigenous Iowa. After we left Ed, we spoke with Christine Nobiss, co-founder of Indigenous Iowa and Little Creek Camp, and Lacosha, a veteran from Standing Rock, who were members of the First Nations Farmer Climate Unity March organized by Bold Iowa and Indigenous Iowa. Then Allen Gildehaus and Evan Taylor interviewed Larry Knudsen, who is DJ Larry K for KHO's show "Indigenous In Music." We closed out the show with Tammy Dickenson-Ferrell, director of Judge Story's Theatre Troupe's Christmas Play the Velveteen Rabbit, describing the fun of working with young children in this Children's Theatre Play.